Symmons* Safetymix* Exacta Flange
Related Items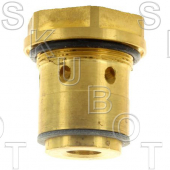 ESF890E
Replacement for Symmons* Safetymix* SC-12* (Obsolete) and SC-144* (Current Model) Escutcheon Flange. Larger OD to cover wall imperfections and caulk debris from original installation.

WARNING! Prop 65 Warning for California Residents
PROP65 WARNING FOR CALIFORNIA RESIDENTS: The State of California requires that consumers receive warnings on products that contain chemicals known to the state to cause cancer or birth defects.

WARNING! PROP65 WARNING FOR CALIFORNIA RESIDENTS: This product can expose you to chemicals such as: Acrylamide, 1, 3-Butadlene, BPA, Chromium, Ethyl Acrylate, Lead, and Styrene which are known to the State of California to cause cancer, birth defects, or reproductive harm.
For more information visit www.p65warnings.ca.gov