FW1702-100, Beveled faucet washers. 100 per pack.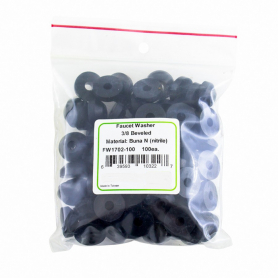 | Quantity | Price |
| --- | --- |
| 1 to 9 | $8.83 |
| 10 and up | $8.10 |
SPL Product Item FW1702-100
Beveled faucet washers 100 per pack
FW1702-100
Beveled Faucet Washers. 100 Per Pack.

This item is an SPL Product and must meet a combined manufacturer's $50.00 minimum pre-freight to ship.This item can be combined with other SPL Product items only to meet the $50.00 Pre-freight minimun .

SPL Product Items ordered can be a combination of:
TUB SPOUTS, SHOWER HEADS, HAND SHOWERS and ACCESSORIES, RESIDENTIAL KITCHEN STRAINERS, and POP UPS

FREE FREIGHT* ON ALL SPL ORDERS OVER $100.00

WARNING! Prop 65 Warning for California Residents
PROP65 WARNING FOR CALIFORNIA RESIDENTS: The State of California requires that consumers receive warnings on products that contain chemicals known to the state to cause cancer or birth defects.

WARNING! PROP65 WARNING FOR CALIFORNIA RESIDENTS: This product can expose you to chemicals such as: Acrylamide, 1, 3-Butadlene, BPA, Chromium, Ethyl Acrylate, Lead, and Styrene which are known to the State of California to cause cancer, birth defects, or reproductive harm.
For more information visit www.p65warnings.ca.gov