Zurn HYD-RK-Z1321-CXL
Hydrant Repair Kit - Compression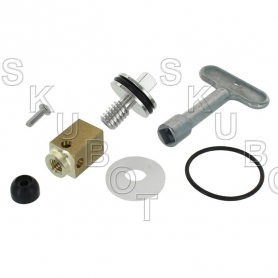 Zurn Z1320-C & Z1321-C Hydrant Repair Kit - Compression Lead Fee Hydrant Parts. Zurn 66955-341-9

Old Item HYD-RK-1320C21C
Zurn HYD-RK-Z1321-CXL Z1320-C & Z1321-C Hydrant Repair Kit - Compression. Part Number: HYD-RK-1320-C/21-C , Z1321-C-RK, Z1320-C-RK
Zurn's ecolotrol hydrant repair kit contains the replaceable parts for maintenance in the field for the Z1320-CXL and Z1321-CXL wall hydrants. The kit contains O-Ring (#6), Operating Coupling (#7), Removable Seat (#16), Seat Screw (#12), Seat Washer (#11), Hydrant Key, and Operating Screw Assembly (#5). Backed with a 1-year warranty, building owners can rest easy knowing the durable construction will stand the test of time against extended wear and tear.
Durable construction stands up to tough environments.
Kit Kit contains O-rings, hardware, operating coupling and seal.
Repair kits allow for in the field repair.
Compatible with Z1320-CXL and Z1321-CXL wall hydrants.
1-year limited warranty

Genuine Zurn Repair Parts.


FREE FREIGHT* ON ALL ORDERS OVER $100.00
(*EXCLUDING CHINA, DRAINS, GROUND HYDRANTS & INTERCEPTORS)

WARNING! Prop 65 Warning for California Residents
PROP65 WARNING FOR CALIFORNIA RESIDENTS: The State of California requires that consumers receive warnings on products that contain chemicals known to the state to cause cancer or birth defects.

WARNING! PROP65 WARNING FOR CALIFORNIA RESIDENTS: This product can expose you to chemicals such as: Acrylamide, 1, 3-Butadlene, BPA, Chromium, Ethyl Acrylate, Lead, and Styrene which are known to the State of California to cause cancer, birth defects, or reproductive harm.
For more information visit www.p65warnings.ca.gov