Zurn ZB415-4NH-5S-PVP-PAS CI Floor Drain w 5In Sq Pol Bronze Adj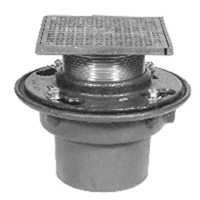 ZB415-4NH-5S-PVP-PAS , 4in Pipe Size with No-Hub Connection, Vandal-Proof, Pennsylvania Steel
ZURN Z415S
Floor and shower drain, Dura-Coated cast iron body with bottom outlet, combination invertible membrane clamp and adjustable collar with seepage slots and "TYPE S" polished nickel bronze, square heel-proof, light-duty strainer.
Dura-Coated cast iron body with polished bronze, or polished nickel bronze top available.
Provides installation and rework savings with Zurn's patented contractor solutions.
OPTIONS (specify appropriate options)
*REGULARLY FURNISHED UNLESS OTHERWISE SPECIFIED
Options will incur additional cost
SPECIFICATIONS
Prefixes Options
ZB D.C.C.I. Dura-Coated cast iron Body Assembly
w/ Polished Bronze Top

Pipe Size
-4 4 Inch

Outlet
NH No hub outlet
Strainer Size
-5S Square 5 x 5 Inch
Suffixes Options
-P Trap Primer Connection (Specify 1/2 [13] or 3/4 [19])
VP Vandal-Proof Secured Top
-PAS Pennsylvania Steel

**Additional Freight Required on all Drain Shipments**

WARNING! Prop 65 Warning for California Residents
PROP65 WARNING FOR CALIFORNIA RESIDENTS: The State of California requires that consumers receive warnings on products that contain chemicals known to the state to cause cancer or birth defects.

WARNING! PROP65 WARNING FOR CALIFORNIA RESIDENTS: This product can expose you to chemicals such as: Acrylamide, 1, 3-Butadlene, BPA, Chromium, Ethyl Acrylate, Lead, and Styrene which are known to the State of California to cause cancer, birth defects, or reproductive harm.
For more information visit www.p65warnings.ca.gov