Zurn ZC100-4NH-C-VP-W2-U1
15In Dia Roof Drain w/ CI Dome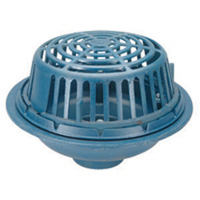 ZURN ZC100-4NH-C-VP-W2-U1, 4in Pipe Size with No-Hub Connection, Clamp Collar, Vandal-Proof,2" Internal Water Dam, Domestic Compliant
ZURN ZC100-4NH-C-VP-W2-U1
15" Diameter roof drain. Dura-Coated cast iron body with combination membrane flashing clamp/gravel guard and low silhouette Cast Iron-Dome.
SPECIFICATIONS
Pipe Size
4 Inch
Outlet
No-Hub
Material
ZC D.C.C.I. Body with Cast Iron Dome
Suffix Options
-C Clamp Collar
-VP Vandal Proof
-W2 2" Internal Water Dam
-U1 Domestic Compliant
**Additional Freight Required on all Drain Shipments**

WARNING! Prop 65 Warning for California Residents
PROP65 WARNING FOR CALIFORNIA RESIDENTS: The State of California requires that consumers receive warnings on products that contain chemicals known to the state to cause cancer or birth defects.

WARNING! PROP65 WARNING FOR CALIFORNIA RESIDENTS: This product can expose you to chemicals such as: Acrylamide, 1, 3-Butadlene, BPA, Chromium, Ethyl Acrylate, Lead, and Styrene which are known to the State of California to cause cancer, birth defects, or reproductive harm.
For more information visit www.p65warnings.ca.gov