Zurn ZERK-CPM
EZ Flush Optical Retro KiT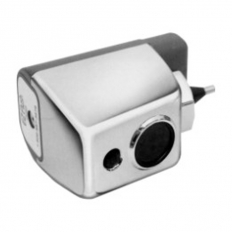 | Quantity | Price |
| --- | --- |
| 1 to 3 | Call for Price |
| 4 and up | Call for Price |
ZURN ZERK-CPM, EZ Flush Optical Retro Kit

This item does not qualify for Flat Rate Shipping of $8.50.
There is an Additional Freight Charge on all Zurn Shipments.

E-Z Flush Retrofit With Chrome Metal Cover and Motorized Actuation for Zurn or Sloan Closet or Urinal Flush Valves. Made for Harsh Water Conditions. Adjustable Infrared Sensing, Sensor and Motor Components, Do Not Contact Water, User-In-View L.E.D., Ease of Installation, Low Battery Light, Impact-Resistant Covers with Angled Face, Replaceable Glass Lens, Courtesy Flush Button Standard, High Mount Adapter for Tall Rough-Ins, Standard 'C' Batteries.
Zurn's AquaSense® E-Z Flush® Retrofit Kit is the easiest way to upgrade a flush valve. It delivers automatic flushing and can be used as a replacement for both urinal and water closest systems. The E-Z Flush® advanced water solution features a hands-free infrared sensor and a manual override button. The kit comes complete with two wrenches for a quick and easy installation. The ZERK-CPM is made of a metal cover in a highly polished chrome-plated finish. It's the perfect solution for a seamless upgrade that's durable for commercial and high-traffic environments.
Designed for seamless upgrades to retrofit projects.
E-Z Flush® series fits both Zurn's and other manufacturers' flush valves for a convenient retrofit application.
Kit works for both water closets and urinals.
Chrome-plated metal cover provides long-term durability and sleek appearance.
Manual override button in case of power failure.
ADA compliant.
Limited 3-year warranty.

SPECIFICATIONS

| | |
| --- | --- |
| Contains Batteries | 4 Alkaline C Batteries |
| Finish | Chrome Plated |
| Material | Brass / Plastic |
| Color | Chrome |


Genuine Zurn .

ALL ZURN ORDERS MUST BE MINIMUM $50.00 PRE TAX AND PRE FREIGHT



FREE FREIGHT* ON ALL ORDERS OVER $100.00
(*EXCLUDING CHINA, DRAINS, GROUND HYDRANTS & INTERCEPTORS)

WARNING! Prop 65 Warning for California Residents
PROP65 WARNING FOR CALIFORNIA RESIDENTS: The State of California requires that consumers receive warnings on products that contain chemicals known to the state to cause cancer or birth defects.

WARNING! PROP65 WARNING FOR CALIFORNIA RESIDENTS: This product can expose you to chemicals such as: Acrylamide, 1, 3-Butadlene, BPA, Chromium, Ethyl Acrylate, Lead, and Styrene which are known to the State of California to cause cancer, birth defects, or reproductive harm.
For more information visit www.p65warnings.ca.gov