Zurn ZN460-1-1-2NH-6B Shallow Body Floor Drain w/Side Outlet and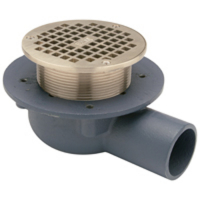 | Quantity | Price |
| --- | --- |
| 1 to 19 | Call for Price |
| 20 and up | Call for Price |
ZURN ZN460-1-1-2NH-6B, 2in Pipe Size with No-Hub Connection
ZURN ZN460B
Shallow body floor and shower drain, DuraCoated cast iron body with side outlet, seepage slots, and integral threaded connection for "TYPE B" polished nickel bronze light-duty strainer.
Shallow body with Integral 90º outlet
Works with Z400 series tops
Threaded body with optional clamp collar
OPTIONS (specify appropriate options)
*REGULARLY FURNISHED UNLESS OTHERWISE SPECIFIED
Options will incur additional cost
SPECIFICATIONS
Prefixes Options
ZN D.C.C.I. Body Assembly w/Polished Nickel Bronze
Top*

Pipe Size
-1-1-2 1-1/2 Inch
Outlet
NH No Hub Outlet
Strainer Size
6B 6 Inch
**Additional Freight Required on all Drain Shipments**

WARNING! Prop 65 Warning for California Residents
PROP65 WARNING FOR CALIFORNIA RESIDENTS: The State of California requires that consumers receive warnings on products that contain chemicals known to the state to cause cancer or birth defects.

WARNING! PROP65 WARNING FOR CALIFORNIA RESIDENTS: This product can expose you to chemicals such as: Acrylamide, 1, 3-Butadlene, BPA, Chromium, Ethyl Acrylate, Lead, and Styrene which are known to the State of California to cause cancer, birth defects, or reproductive harm.
For more information visit www.p65warnings.ca.gov