Zurn Z1300-Z1310 Hydrant Repair Kit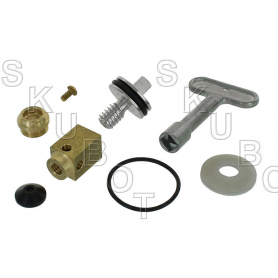 Zurn Z1300 & Z1310 Hydrant Repair Kit Same Business Day Shipping Available when ordered by 11am et.
Zurn's repair kit for the Z1300 and the Z1310 comes with Key, 3 O-Rings, Seat, Seal, Operating Coupling, and Washer
Replacement/Repair Bag for the Z1300, and the Z1310.
Kit contains O-rings, hardware, operating coupling, seat, and seal.
Repair kits allow for in the field repair.
Zurn hydrant repair kits extends the service life of your hydrant.
1-year limited warranty

Genuine Zurn Repair Parts.


FREE FREIGHT* ON ALL ORDERS OVER $100.00
(*EXCLUDING CHINA, DRAINS, GROUND HYDRANTS & INTERCEPTORS)

WARNING! Prop 65 Warning for California Residents
PROP65 WARNING FOR CALIFORNIA RESIDENTS: The State of California requires that consumers receive warnings on products that contain chemicals known to the state to cause cancer or birth defects.

WARNING! PROP65 WARNING FOR CALIFORNIA RESIDENTS: This product can expose you to chemicals such as: Acrylamide, 1, 3-Butadlene, BPA, Chromium, Ethyl Acrylate, Lead, and Styrene which are known to the State of California to cause cancer, birth defects, or reproductive harm.
For more information visit www.p65warnings.ca.gov