Zurn ZB420-2IC-DS3 CI Floor Drain w/ 4" Rd Adjustable Deep Shank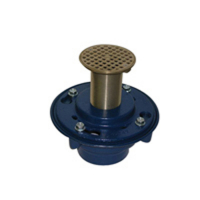 ZURN ZB420-2IC-DS3, 2in Pipe Size with Inside Caulk Connection, Decorative Strainer
Zurn Z420
Deep Shank Floor and shower drain, white acid resisting coated cast iron body and invertible membrane clamp with seepage slots, polished nickel bronze adjustable head with 2 [51] N.P.S.M shank and 4 [102] diameter round secured strainer.
A.R.C. cast iron body and collar with polished bronze and polished nickel bronze top available
OPTIONS (specify appropriate options)
*REGULARLY FURNISHED UNLESS OTHERWISE SPECIFIED
Options will incur additional cost
SPECIFICATIONS
Prefixes Options
ZB White A.R.C. Cast Iron Body and Collar w/ Polished
Bronze Top

Pipe Size
-2 2 Inch

Outlet
IC Inside caulk outlet
Strainer Size
4 Inch
Suffixes Options
-DS3 Decorative Strainer

**Additional Freight Required on all Drain Shipments**

WARNING! Prop 65 Warning for California Residents
PROP65 WARNING FOR CALIFORNIA RESIDENTS: The State of California requires that consumers receive warnings on products that contain chemicals known to the state to cause cancer or birth defects.

WARNING! PROP65 WARNING FOR CALIFORNIA RESIDENTS: This product can expose you to chemicals such as: Acrylamide, 1, 3-Butadlene, BPA, Chromium, Ethyl Acrylate, Lead, and Styrene which are known to the State of California to cause cancer, birth defects, or reproductive harm.
For more information visit www.p65warnings.ca.gov